❷Mechanical compatibility with HD-tDCS:
Insertion of large sponge electrodes under an EEG cap will not only block the access of EEG electrodes precisely in the area of interest, but also ejection of fluid from the sponges will shunt neighboring EEG electrodes. Soterix Medical offers a simple and unique solution to tDCS+EEG through the use of High-Definition (HD) tDCS electrodes. Compact in size and gel-based, with validated tolerability, HD electrodes can be inserted between EEG electrodes without compromising mechanical compatibility.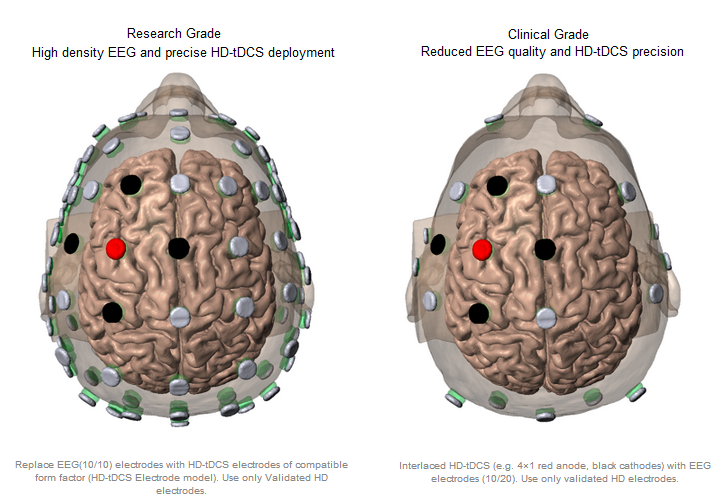 HD electrodes are compatible with any Soterix Medical tDCS or HD-tDCS stimulator. Moreover, Soterix Medical provides HD electrode holders for integration with any commercial EEG headgear including Brain Products (HD1-BP) and Biosemi (HD1-BS). HD-tDCS electrode models are designed to fit existing EEG system adaptor and are the only electrodes validated in multiple clinical trials to produce tolerated stimulation.
WARNING: HD electrodes were developed at The City College of New York and Soterix Medical to allow safe and tolerated DC stimulation. Soterix Medical can no longer provide technical or equipment support for the use of non-validated "small" electrode designs.