To understand the Soterix Medical's Open-Panel interface, one needs to consider how tES and tDCS are applied in the best clinical and academic centers. The risk of relying on a wireless connection with a computer to control and monitor the device is not acceptable. Similarly, complex and hidden drop-down menus create inherent risk in programming mistakes. A single mistake can compromise subject safety and the integrity of an entire clinical trial. For medical grade equipment, device status and subject monitors should be clearly visible on the device display. Soterix Medical devices, including features such as Open-Panel, are chosen when patient tolerability and trial integrity cannot be compromised.
Open-Panel™ Reproducibility Advantage

No drop down menus.
No hidden setting.
Avoid confusion and mistakes. Save time. 1x1 devices can be programmed in seconds with simple switches and controls.

No external computer.
All devices stand alone.
With stand-alone 1x1 stimulators, there is never a need to use a personal computer for interface. This reduces your cost, complexity and potential errors.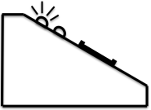 Elevated panels.
Backlit displays.
Easy to read displays, even at a distance and even in reduced light conditions, means you always can monitor stimulation status.

Optimized devices.
Customized interfaces.
In advanced neuromodulation, one size does not fit all. Display and control items are minimized to what you need. Clarity and simplicity without compromise.